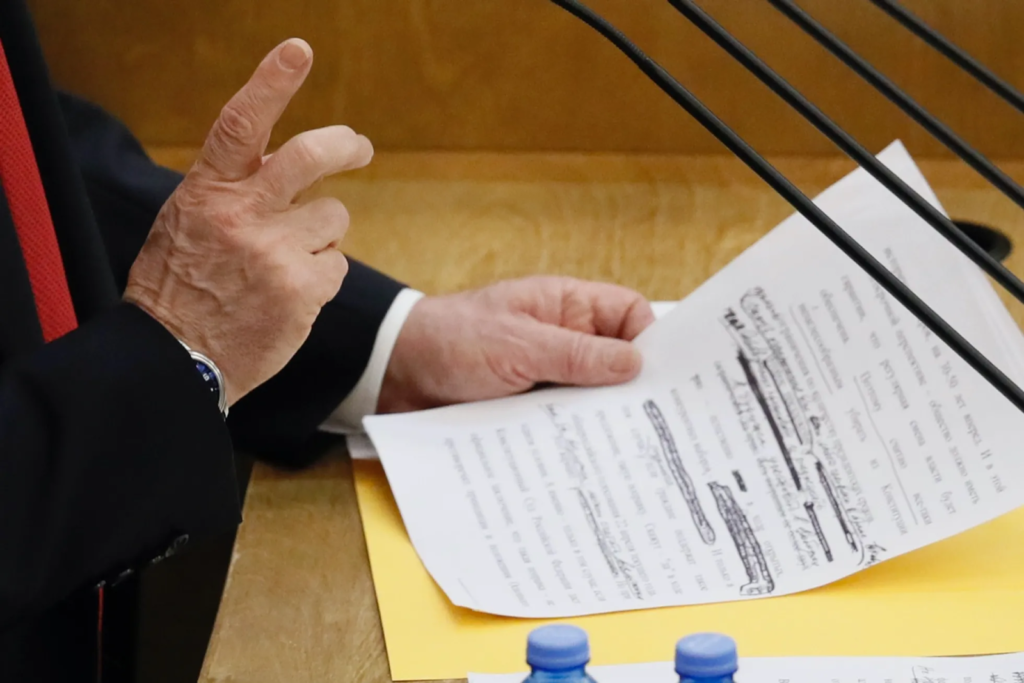 Presidential terms of Vladimir Putin can be reset. The relevant changes to the bill on amendments to the Constitution were supported by the State Duma. Now, if the bill goes through a long adoption process, Putin will be able to run in the presidential election of 2024, be re-elected after six years, and possibly remain in power until 2036. Meduza asked the experts if such a development of events was planned by Putin in advance, and if so, why did he come up with such a complex mechanism for maintaining power.
Abbas Gallyamov
political scientist, political strategist

Informational noise – numerous ambiguous amendments about the family, God, etc., trips to regions where each time someone asked Putin to remain president forever, and other informational issues related to changes to the Constitution – were needed in order to satisfy a public request for change and to show that his opinion matters, that he is allegedly being consulted. This is such a game of reform. Do you claim that we have stagnation? We do not have stagnation, here are the reforms. Are you saying that we have no democracy? No, we are consulting with the people on key issues. This is a game with public opinion. He couldn't just take it and say: "I remain still." It's too rude, Putin likes to play gracefully, although he doesn't succeed because the real thing breaks through and cuts his eyes anyway through the verbal husks he creates.

I'm not sure that he definitely decided to stay. I think he came up with a clue about the Constitutional Court in order to suspend the situation so that none of his comrades-in-arms would write him off, so that there would be a threat to the last, that he would remain, that everyone would be loyal to him personally, and not to some successor there. It can also be an element of the game. In the case of Putin, who simply deals with disinformation in principle, one cannot be sure of anything. He simultaneously launched all possible scenarios, he approves everything, he makes a decision at the last moment, in order to shock everyone and so that no one understands anything.

This is such a style, he once brought him success, but now he has stopped working. Previously, he was the president of hope, and society associated him with the belief that the situation would improve. Then all the ambiguity was interpreted in his favor. Now, even for supporters, he is no longer the president of hope, but the president of fear, which may be worse. In this situation, all the ambiguity is no longer interpreted in his favor, but vice versa. Everyone thinks: "But he himself understands what he is doing? He is not crazy there? " Such interpretations begin to dominate. And he is true to his style, because he is divorced from reality and mistakenly believes that uncertainty brings him dividends.
Ekaterina Shulman
political scientist, associate professor of the Institute of Social Sciences, RANEPA

There is no well-thought-out plan; we see a stream of improvisations from different actors. There is an aspiration of an elderly political system to minimize its risks. But this desire poses new risks: it is sewn up, it is torn here; there, it seems, they came up with a popular vote, but it turned out that no one wants to go to it. They came up with new amendments, but it turned out that they antagonize part of the voters. It seems they said that a change of power is needed, but, apparently, fermentation began. So, you need to give a sense of stability.


What happened today in the State Duma is similar to the lawmaking of the deputies of the EP, because early elections are in their interests. Everyone was concentrating now on resetting the deadlines, but all morning the leadership of United Russia said how to hold parliamentary elections correctly and well this year. They were preparing for this, they planned the primaries for May. And they decided to confront the presidential administration with a fact, and for Putin to make a nice correction about zeroing the deadlines. But then the president came and said no, this will not happen. He also explicitly rejected the limit on the number of terms, saying that the amendments were adopted for the distant future, so I would not consider the decision of the Constitutional Court to be previously predicted. And most importantly, having a right to run does not mean an obligation to do so.

For non-democracies, the transfer period is always nervous. They do not know how to cope with this and come up with everything. They need to maintain uncertainty, but not too strong so that the political elites in their throwing do not trample each other. Today, talk that constitutional amendments are a political testament of the president has been suppressed. Putin's main phrase today was the last: until 2024 we'll work, and there we will see.
The flip side of what is happening is that it is much easier to mobilize the voter against zeroing the deadlines than against everything else that is contained in these amendments. This is a potential risk. We see that the desire to minimize risks creates new risks, and this is the curse of autocracy.

Gleb Pavlovsky
political consultant

It is a mistake to think that amendments to the family, children and God are introduced only in the name of Putin's extension of authority. This could be done in a huge number of other ways. In this case, we are talking about replacing one state with another state (alpha state with the beta state). In the alpha state, the question of Putin's resignation from office is an important, normal question, and in the beta state, the question of Putin's resignation is not important. In it, he is inside this entire network of institutions that are intertwined with each other: the State Council, administration, government. Putin never leaves this state.

But this does not mean that he told you today that in 2024 he will participate in the elections. No, he didn't tell you that. He deliberately created an ambiguous situation – another one – because it is his principle. For an unknown reason, he believes that this is the ideal principle of governance – to keep in a state of confusion not only the population but the managerial class, the establishment, the political elite. Indeed, in 2024 he can simply refuse to participate in the elections. He looks at things differently: they say, so many important events will happen before 2024 that some of them will tell him the right tactics. It has been working like this for 20 years, so why do you think that it will change this methodology today? He did not replace her. If you think you have received at least one byte of relevant information about his intentions from him today, you are mistaken.
Of course, all this was conceived in advance. But probably not in the form that took place. What happened is his improvisation; he prepared apart with the apparatus and kept the other secret from the apparatus. He himself provoked an avalanche, and neither the apparatus nor he himself could control this avalanche. Therefore, he followed the stream, and some lobbyists told him something. I do not think that everything was in his head – rather, it was born after some kind of brainstorming.
According to the development model, this is a bit like perestroika, when the first person starts a process that he doesn't know how to manage, and he's not really going to, but strengthens his position by the fact that everyone else understands even less and is busy finding his place in this process.

Alexander Baunov
political scientist, chief editor of Carnegie.ru
It seems to us that Putin simply extended his powers. This is an extension of powers in our opinion because we know that he will win any new elections and cannot be otherwise. And it seems to him that he acted very subtly and cunningly – that he not only extended his powers but created the opportunity for himself to participate in new elections. It may seem to him that this is a rather subtle move. Although the pro-government part of society, he is indifferent, but critical looks rude.
A simple extension for him is not an elegant path. Apparently, it seems to him or his environment that this is too simple and, most importantly, will bring down the system. If you can just get an extension, then the next president will do the same; and in general, all presidents will now go to a referendum and demand this. And so he made an exception for himself, limiting all his successors to using such an option. But we understand that in this case, no one guarantees that the successors will not make the same exceptions for themselves.
It is not a fact that the mass voter would enthusiastically react to a simple extension. Therefore, Putin needs all the other amendments, of course, so that people come to vote for a not very intelligible design. Putin wants to weight this whole construction with a bunch of amendments – socialist, patriotic and even liberal – in order to get an opportunity to be re-elected.
It seems to me that from the very beginning Putin went to this, but he had a certain casting of projects. I think that these options had their own working groups, or at least their own developers, and Putin thought about the State Council and the prime minister. But he has an unpleasant experience of tandemocracy, in which the elite was split. In the Kremlin's minds, the Moscow protests of 2011-2012 were not the result of Putin's return, but that the elites were split: some wanted Medvedev to stay, others wanted Putin to return, and this all destabilized the country. And no matter where Putin leaves the presidency, there will be a place for a second key in the power cell, around which his own party will be formed. This was what they got scared of and decided to avoid.

Mikhail Vinogradov
President of the St. Petersburg Politics Foundation

Is the main intrigue all one cunning plan or one of the cunning plans that replace one another? But there are a number of points that contradict the idea that Putin had everything in mind from the very beginning: starting with Medvedev's resignation, which was not necessary for such a scenario, and ending with the launch – with the participation of the authorities – of the thesis that this is Putin's political legacy. There is a certain dynamic. We see, for example, that at first, Putin proposed weakening the presidential power, then he returned to the idea of ​​a strong president. Apparently, as in 2011, Putin's return to the presidency was not predetermined, and now it was one of the options.
A whole series of events did not fit into the idea of predetermination. For example, the POF stopped publishing Putin's weekly electoral rating on the pretext that he would not be elected anyway. There was no powerful campaign to popularize Putin as a national leader in January-March. But opinion polls showed that the majority of respondents perceive amendments to the Constitution as a tool to keep Putin in power.
The debatable question is whether the drama of zeroing is successful because there are risks of polarizing society. These risks are similar to those realized in 2011 when Putin's return for some voters looked like a decision made behind their backs.
Tatyana Stanovaya
Head of the analytical company R.Politik. Reality of Russian Politics

I think that Putin initially had such a plan in mind, but did not tell anyone about it, including the head of his administration. On the whole, the reform of the Constitution, which Putin announced in January, created a feeling of understatement. Something more was behind it. It seemed strange that Putin made too many conciliatory gestures. There was a feeling of demobilization – that Putin was leaving, there would be a successor, that transit had begun.
Understatement is a kind of bribery when Putin makes a lot of gestures that are expected of him, but he does not reveal what he needs in return. And now we understand.
Renewing the Constitution was his dream to go down in history with Putin's Constitution, not Yeltsin's. This is a matter of ambition, which is not directly related to the intention to run in 2024. But he also has a feeling that he has earned the right to be elected again after everything he has done for the country.
Recorded by Irina Kravtsova
Source: Eunion Capital